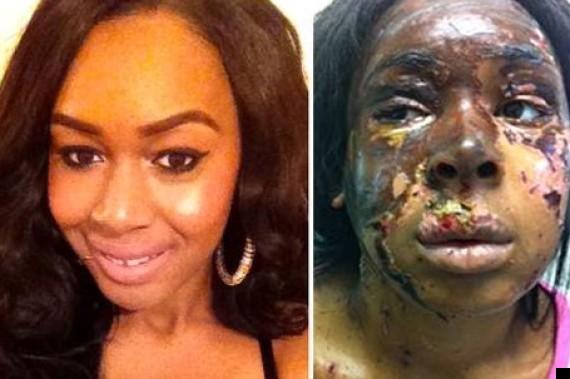 She has now released the images in a bid to trace her attacker, who fled from the scene.
She told the Evening Standard the attack had "destroyed" her life and left her fearful of showing her face in public.
She said: "I look in the mirror and it just isn't me. I'll never look the same again. I've always been outgoing and confident in my job and in my personal life, used to getting attention for the way I dress or my hair, but now I don't want anyone looking at me."
Oni says she decided to reveal her injuries after being inspired by model Katie Piper, who founded a charity after an acid attack by her boyfriend.
Naomi Oni, 20, was on her way home from work when an unknown attacker dressed in a niqab threw a chemical substance at her leaving the retail assistant with severe burns on her head, neck, arms, legs and body.
These shocking images have now been released by Ms Oni in an appeal for help to catch the attacker whose identity
The young girl was only released from Broomfield Hospital in Chelmsford last weekend after spending almost a month receiving skin grafts and specialist treatment in the hospital's burns unit.




Doctors initially warned Ms Oni that she may not be able to see again and although she can now see out of her left eye she still only has partial vision in her right eye.





Ms Oni, who is sole carer for her disabled mother Marian Yalekhue, 52, has decided to speak out after police failed to establish any motive behind the attack or identify a suspect.

was concealed behind the Muslim women's dress which completely covers the face apart from the eyes.
The store assistant had just got off the bus and was talking to her boyfriend Ato Owede, 23, on her phone when she felt someone walking behind her in Lodge Avenue in Dagenham at around 12.40am.
She said:"I'd been working a late shift and was talking to my boyfriend about what we were going to do for New Year when I saw this Muslim woman wearing a niqab covering her face. I thought it was a bit strange at that time of night, but she didn't say anything and I kept on walking.
"Then I felt a splash on my face. It burned and I screamed out. I started running and screaming, holding my face, all the way home. I didn't look back.
"I got home and I was screaming and banging on the door. I was hysterical. Luckily my godmother, who is a pharmacist, was at home with my mum and she helped me and kept dipping my face in water and trying to calm me down until the police and ambulance got there. I was in shock
In a new development she says she has forgiven her attacker but wonders if the attacker will be able to forgive his/herself.